Despite the lingering winter chill, an appreciative crowd of parents, grandparents, and local citizens filled the basement of Longmeadow's venerable First Church this morning for Troop 90's Annual Fundraiser Pancake Breakfast. Outside, snow shovel in hand, was Scoutmaster Bill Packard. Even while shoveling clear a path for their egress, Bill was quick to thank departing diners for their patronage, while they in turn remarked on the excellent food and service. "No one is going to leave here hungry," quipped Bill. I knew I was in the right place!
Inside the spacious hall I found a beehive of activity, with a surprising absence of panic or confusion. Immediately upon getting my ticket, a scout who probably weighed no more than 75 lbs was ready to be my concierge. "You can sit wherever you want", he offered, "and we will bring your breakfast to you". After looking me up and down, he added "you can have more pancakes later if you want". Thanks, Beaver!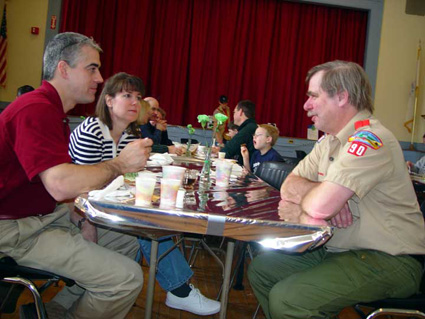 While one or two women strolled around unobtrusively, Scouts scurried in and out of the kitchen, efficiently providing breakfasts and simultaneously clearing tables….all with little or no supervision needed. With a learned eye, I cast about looking for the obligatory instigator or trouble-maker, but no Eddie Haskells or Lumpy Rutherfords were to be found anywhere!
After a sumptuous serving of pancakes, sausages, orange juice and coffee (all prepared on the spot), I sat down with Scoutmaster Packard. Along with Committee Chairperson Jean Williams, he navigates his troop of 71 boys through their Boy Scout experience. While they are sponsored, in part, by Saint Mary's Church, the busy schedule at the church school makes it necessary for their meetings to be held at the Williams Middle School. Aside from their usual scouting activities connected with the achievement of their scouting badges, Troop 90 is involved with a host of civic volunteer activities. These run the gamut from serving as library aides, church workers, raking leaves and activities at the Senior Center, to can and bottle collections. An Eagle Scout Himself, Mr. Packard is no stranger to the scouting experience. He thought enough of it to "reenlist" when his own son became of age to enter the Boy Scouts of America.
Although sponsorship is very good from parents and other external sources, fundraising activities like this breakfast are vital for the boys to achieve the level of financing the troop needs to participate in certain "extras". For instance, the troop was able to take a trip to Alaska last year. Needless to say, this was an extraordinary venture for young lads; totally interactive as well, you might say. There was a lot of bottle collecting and fundraising to meet the needed financial goal.
Everything is done equitably, as well. On a periodic basis, the troop analyzes its activities, and is able to come up with a per-hour value for the work they perform. Thus, when an extra-special event is being planned they have an idea of how much they will have to do to enable themselves to get to that goal. Some activities can amount to as much as $400 per scout. Each scout is expected to produce that necessary amount to participate in the planned camping trip or excursion. Failure to do so may result in staying home and spending quality time with his sisters and their friends! Needless to say, each and every scout works diligently to achieve his quota. If for reasons of illness, schoolwork, or whatever, an individual scout is unable to make his mark; his parents are called upon to make up the difference. With everyone pulling their own weight, they are all assured of being "happy campers".
Troop 90, which is over 40 years young, will be hosting another annual breakfast in May on the Saturday that Longmeadow Days begins, Bill Packard tells me. During the Longmeadow Days, the Troop operates a food tent providing a wide assortment of delicious items, made to order right there on the premises. Once again, Scoutmaster Packard tells me "Nobody goes away hungry from our tent."
I don't know about you, but I am going to get there early and stay late, Scout's Honor!
Thank you Troop 90, and keep up the excellent work!