'Kids Night' Launches Storrs' Summer Reading Program
On Tuesday, June 24th, the Storrs Library hosted its first annual "Kid's Night" to kick off its Summer Reading Program. In the past, this was an afternoon event but this year it was held from 4PM to 7PM and was quite the gala event. Thanks, in part, to the generosity of the Longmeadow Chapter of Masons, the event featured pizza to feed the multitudes, and quality entertainment by the Glenbrook Middle School jazz group "Quintet", now calling themselves "A Half-Decent Quintet." Being a lazy typist, the aforementioned shall henceforth be known simply as Q.
I chatted with librarian Martha Richard about the program, which features attractive inducements for young people to read over the summer months. Martha explained to me that the youngsters first register and receive a reading log. The log enables them and their parents to keep track of reading accomplishments. Points are achieved for completion of books and stories. Preschoolers get credit for having stories read to them. Along one wall, across from the busy registration sites, were prizes donated by local businesses and individuals. Thus, the rewards were in full view to promote youth participation to its highest possible degree. The registration process was in full swing by 5 PM and showed signs of being a very good summer for the program.
The generosity of local individuals, businesses, and civic organizations is critical to the success of the Summer Reading Program but it doesn't happen without careful organization and active letter writing by Martha and her staff. Education being a high priority in Longmeadow (and in our culture as a whole), the program is a favorite and shows all signs of being a perennial success. Martha and staff should be proud of their good work!
After registering, traffic flowed into a large function room where seating was arranged for a series of short hourly sets by 'Quintet'. Due to some miscommunication or organizational snafu, I was not permitted to photograph them during the Glenbrook Variety Show. I received a call from bandleader Paul Brinnel about this concert and was more than willing to photograph the band in action. Additional photos can be found in the Longmeadow Chronicles Annex.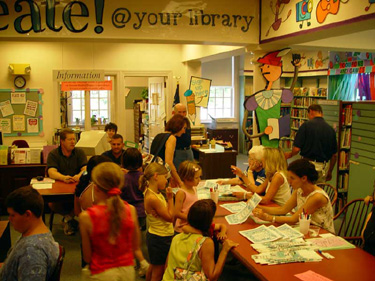 The band performed as well as ever, and was well received by an attentive and appreciative audience. The event also marked the transition of the group from amateur (doing it for the love of it) to "professional" (money-making) status, thanks to the Masons' generosity. The group consists of Paul Brinnel, pianist and leader; Nick Cadirov, drums; Chris Segall, bassist; Chelsea James, tenor sax; and Danny Nault, alto sax. The lads performed a 15-minute set each hour or so. In the interim, pizza arrived in waves. The crowd got to hear the band, eat some pizza and then (hopefully) vacate and make room for the next group to arrive after registering. The plan seemed be working smoothly.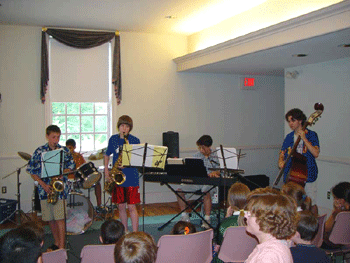 I have already reviewed the band's performance in my article on the Glenbrook Variety Show, and the reader is encouraged to see that article if interested. All the praise I heaped on them I would pile on once again here, with a bit more for good measure. Now having surrendered their 'amateur' status to don the mantle of 'professionals', I have a few constructive criticisms for the lads. I call them………..
---
Q-TIPS
The tunes you're doing are fine for starters, but don't get locked into the blues-based format. A groove can become a rut in short order. You do a nice job on the Monk tunes, and now you might move onto some serious chord changes. Thelonius Monk and his school were highly individualized stylists and lived well outside the norms of conventional society. Most lived in poverty and died early on. Try your hand at tunes like "All The Things You Are" or "How High The Moon". Give a serious ear to the Coleman Hawkins and Bud Powell versions. The transition to these tunes will serve you well.
Gigs are an opportunity to show your technique and artistic expression. Your music is special to you, and your presentation should reflect this. As professionals, be ready for the nice gigs. Get yourselves the dark suits, slick shoes and some porkpie hats. Don't forget the Rayban Wayfarers, either. When you show up for the inevitable country club gig, you do not want to look like caddies or sk8ter dudes. You'll be promptly escorted towards the dishwashing apparatus.
Find yourself a young songstress who can belt out some Cole Porter & Gershwin tunes. I saw a few at Glenbrook who could fill the bill. While you're a great sounding group as is, a young chanteuse would put you in the big rooms by next week at the latest. The band opens up the set by themselves, then you call out the vocalist who purrs out "Satin Doll, Someone To Watch Over Me, Night And Day," and the like. You've crossed over from musicians to entertainers. Kaching!!!! Next thing you'll need is an investment banker.
Record your gigs.
Music school? Forget it! With the chops you've got at age 13, learn all you can now and go to law school. Some of the best musicians I know are lawyers, CEO's and investment brokers. Believe me, by the time you're forty you won't want to play out every night and you'll have had your fill of airport lobbies, green rooms, and life on the road in general. John Coltrane, Duke Ellington, Count Basie, Bud Powell, Coleman Hawkins, Miles Davis, and Thelonius Monk all had something in common…. no music school. Maintain your flexibility, you'll need it!
Lastly, keep up the great work! I could see by talking with the group they were good friends. They all acknowledged Paul as leader and organizer. There was no quibbling in that respect. A leader's job is a snap with quality sidemen, and Paul has a good posse here. Best of luck to Q!!
---
SUMMER READING FOR Q
"The Jazz Pianist" by John Mehegan, [3 volumes] First published in the 60's, Mehegan's codification of the styles of jazz are a must-have for all aspiring musicians, regardless of instrument.
"The Contemporary Keyboardist" by John Novello. A wire-bound opus the size of the Manhattan phone directory, this is a great sourcebook for aspiring pianists. Start with Mehegan and do this one concurrently. Very challenging.
"The Charlie Parker Omnibook" Available in all keys. A must-have for all horn-players as well as pianists AND bassists. Bassists should not feel limited to thumping along playing roots and fifths. Learn to play the melody lines. Try "Donna Lee" and "Ornithology" for openers.